Enoven Upfits
---
Enoven Truck Body + Equipment (Enoven) is the premier work truck body builder and full-service truck equipment company on the West Coast. Founded on the principles of integrity and ingenuity, Enoven is driven to providing our customers with the highest quality work truck solutions to make their jobs easier, safer, and more efficient.
View Enoven Trucks
---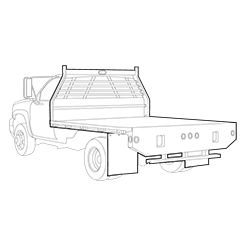 Enoven Platform Body
The flatbed is a very popular product. Its main job is to take things from one point to another. All Flatbeds typically come with a standard square headboard to protect the cab from damage.
There are many options available for the Flatbed such as a liftgate to help get heavy items on and off the bed, under bed tool boxes, HD trailer hitch and wiring, tapered headboard, steel overlay on floor for added strength and longevity (smooth or diamond plate), cranes, tool boxes on top of the bed, HD material rack and many more.
View Enoven Platform Body Upfits
---
Enoven Dump Body
The steel dump is useful for carrying and dumping heavy cargo and it takes a good deal of abuse from materials such as rocks, gravel and dirt. This is also becoming more popular in aluminum to save weight and fuel, plus avoid the potential problem of corrosion. The flatbed or stakebed dump can be very helpful for those who need a dump occasionally. The landscape dump body is a favorite with landscapers and generally is a flatbed with solid wood or steel sides and a swing away gate system at the rear. It is not meant for heavy items generally, but clippings, brush and similar materials. You can also get a dump body for a pickup truck, as either an insert or utilizing the truck bed as a dump.
View Enoven Dump Body Upfits
---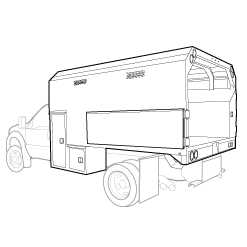 Enoven Chipper Body
This Chipper Body commands attention with its robust 7ga steel floor and 10ga V-crimped smooth steel siding. The cross-body front toolbox, internal pole saw box, and easy to use under-body hoist provide extreme functionality.
View Enoven Chipper Body Upfits
---
Enoven Water Trucks
Available from 2000 to 4000 gallon capacity. Dual-front, -center, and -rear spray heads; all independantly controlled within the cab. Water level sight gauge in the rear and in the front; check your levels without even getting out. Entirely manufactured in-house. At the end of the day, this is a very robust tank at a value price offering many years of service.
View Enoven Water Trucks Upfits